SANDALWOOD SCALP MASSAGER
Regular price

Sale price

$23.00
SCENT

Natural Aroma: The Sandalwood aroma helps to calm the mind and soothe stress. It is also said to invigorate courage, purpose, strength, and happiness.
BENEFITS

Smooth massage points
Multi-purpose
Kinky-curl friendly
Stimulates blood flow to the scalp

HOW TO USE

Start by using light & gentle pressure in a circular motion all over the head. Then gently start at the forehead with gentle back and forth wiggles, moving your way to the neck.

Once the entire scalp is done, gently comb down your neck toward you shoulder for a nice release.

In order to preserve the natural lustre, never use water to clean Sandalwood Combs. Instead, use natural oils like jojoba oil or Camellia oil to clean them.

Please place the sandalwood comb in a dry and cool area to prevent deformation.

Do not soak sandalwood combs in water.

Do not expose sandalwood combs to strong light or high temperature.

INGREDIENTS

MADE FROM GREEN SANDALWOOD FROM ARGENTINA
Meet the Gyökér Hair Sandalwood Scalp Brush Massager.
Incredible for increasing microcirculation to your scalp and helps release tight and stressed parts of your temples, neck and traps. 
Apart from just feeling amazing, studies suggest scalp massage can increase hair thickness by stretching and stimulating the hair follicle cells.
Being a natural product, the actual color and wood fiber pattern of each comb is unique. So, each comb is a unique piece of art in its own right.
The sandalwood comb distributes oils more evenly throughout hair to end than plastic ones, giving your hair a shiny and lustrous look, while increasing thickness and new growth. The natural wooden fibers work great to condition your hair, which helps to increase the blood flow to the scalp – bringing more nutrients to the hair roots.
If you suffer from dandruff due to dry scalp, regular massage with a wooden comb will normalize the oil production and eliminate dandruff.

Sandalwood is heavy, dense, and fine-grained, and unlike many other aromatic kinds of wood, they retain their fragrance for decades. Sandalwood oil is extracted from the woods for use. Both the wood and the oil produce a distinctive fragrance that has been highly valued for centuries.
Usually, green sandalwood will be ready for harvesting after 30 years of planting which makes it the second most expensive wood in the world.

Share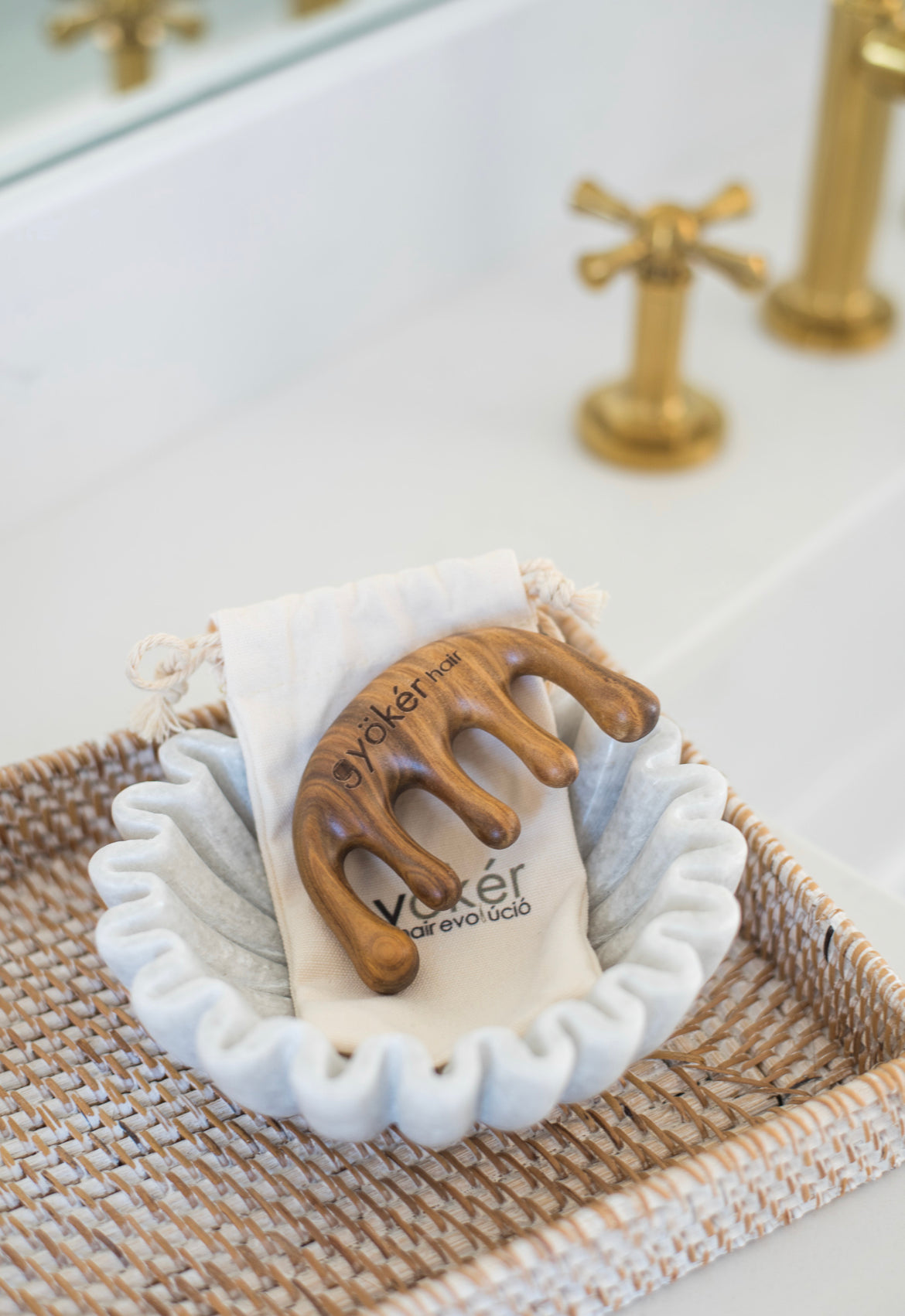 OUR PROMISE
Natural

We provide items made mainly from natural sources.

Fast Shipping

Your orders are processed within the same day or following day and shipped out.

Limit Waste

From R&D, to Production and Shipping we try to reduce wasted materials.

We Care

We value your opinion and feedback and impliment it into R&D and policies.
WE DONATE A % OF ALL SALES
TO WHO?

We donate to an organization dear to us for women and children fleeing domestic violence at The Women's Habitat.

With every purchase you make, you are helping women and children who desperatly need safety and support.

Thank you Kindly. Xo
Express yourself by leaving a review & tagging us in your media